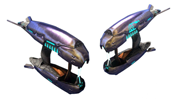 Halo 3 Plasma Rifle
Also referred to as the "Type-25 Directed Energy Rifle".
According to information found on Halopedia, this single-handed (dual wieldable) rifle is 66 cm (26 in.) long, 17.8 cm (7 inches) wide, 37.9 cm (14.9375 inches) tall, and weighs 5.9 kg (13 lbs)
Further Storyline information is availible here: Halopedia Information Page (external link)
See how members of the 405th Forums approached the creation of their own Plasma Rifles, on their own WIP's (still needed), and how some of them looked when completed, when they were shown off (still needed).
Blueprints are not availible on the 405th Forums.
Pep files (.pdo's) may be availible: Pepakura_File_Index#Covenant
Downloads
Edit
A Reference Pack is availible (hosted by vrogy): [Plasma Rifle Reference Pack]
A Picture_Pack is still needed for this item.

To my knowledge, no 3d models (other than pep) are currently available for this item. If you are aware of any, please add a link to them from this page.