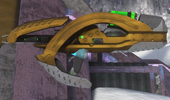 Halo 3 Fuel Rod Gun
Also referred to as the "Type-33 Light Anti-Armor Weapon".
According to information found on Halopedia, this shoulder-fired gun is 130.2 cm (51.26 in.) long and weighs 20.8 kg (46 lbs) when empty, and 23.1 kg (51 lbs) when loaded.
Further Storyline information is availible here: Halopedia Information Page (external link)
See how members of the 405th Forums approached the creation of their own Fuel Rod Guns, on their own WIP's (still needed), and how some of them looked when completed, when they were shown off (still needed).
Blueprints are not availible on the 405th Forums.
Pep files (.pdo's) may be availible: Pepakura_File_Index#Covenant
Downloads
Edit
A Reference Pack is availible (hosted by vrogy): [Fuel Rod Gun Reference Pack]
A Picture_Pack is still needed for this item.

To my knowledge, no 3d models (other than pep) are currently available for this item. If you are aware of any, please add a link to them from this page.
Ad blocker interference detected!
Wikia is a free-to-use site that makes money from advertising. We have a modified experience for viewers using ad blockers

Wikia is not accessible if you've made further modifications. Remove the custom ad blocker rule(s) and the page will load as expected.